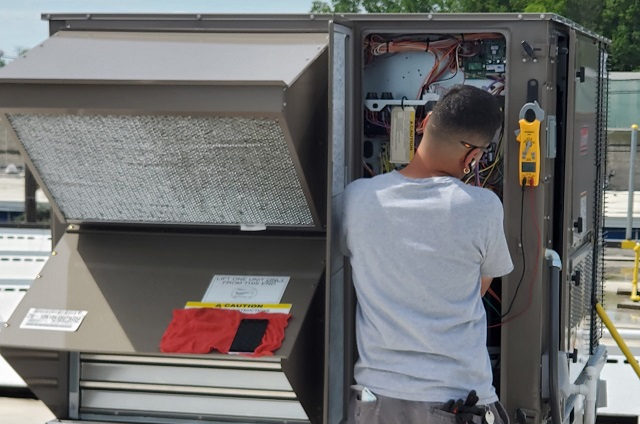 Heating Unit Problems We Can Prevent/Fix to Keep Your Employees Comfortable
An HVAC system is much more than cleaning coils and lubricating filters. It requires expert intervention for preventive maintenance. This is necessary to ensure that the system functions efficiently for the longest time, without malfunctions like pilot ignition problems, tripped breakers, blown fuses and thermostat issues. The global HVAC market is projected to touch $367.5 billion by 2030, growing at an annual rate of 3.9% from 2020, according to figures released by Statista. This indicates that HVAC systems are to witness widespread adoption in both residential and commercial sectors for thermal manipulation and environmental control.
Therefore, it becomes extremely necessary to address heating unit problems. This can prevent outages in extreme weather conditions and ensure high-end productivity. If you experience strange sounds, loss of system functionality and poor IAQ, here's what you can do.
Prevent HVAC Heating IssuesRegular onsite inspections, replacing parts immediately and identifying wear and tear early can increase the lifespan of commercial heating and air conditioning systems, according to experts at Total Comfort Group. Pick a company that conducts quick inspections to identify the root problem and resolve it in the minimal time possible.
Work with professionals willing to offer technical support 24/7, since HVAC units can break down at any time. Make sure the whole process is cost effective too. This way you can rest assured of receiving the greatest cooling and heating comfort, along with reduced energy expenses and high-end install, service and repair facilities whenever required. In fact, you can also expect optimization of existing units or new models.
Fix HVAC Problems
Working in an area with air pollution can raise the risk of death due to stroke and heart attacks, while also increasing the risk of lung cancer, preterm delivery and chronic obstructive pulmonary disease, according to an article by Medical News Today. Further, failure of the system can lead to short circuits, weird noises and adverse impacts on the machine itself. Therefore, it is extremely important to keep your HVAC system in top shape at all times.
Getting in touch with professionals can fix dirty and clogged filters, improper air balance, leaking refrigerant and thermostat malfunctions. This will keep pollutants at bay, dehumidify the indoor air and ensure sufficient airflow in each room, for a comfortable work experience. In fact, low energy consumption will keep your pocket happy too.
The best technicians are always a call away. Don't hesitate to consult them to combat system issues and create a productive environment for your employees.